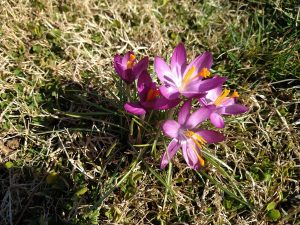 Let everyone bring the gifts!
The air is full of wings beating,
calling.
Let everyone bring the gifts!
This is the calling, the sound of spring,
the birds singing the plants out
of the ground, the buds
ready to burst,
the color, the immediate saturation of a
sigh
the word ah —again and again—
the sound of the origin,
a beginning,
ah,
Thank the Goddess, angels, Universal
Mother beings, thank the
ancestors, thank the bird people
and the seed people and the sea
people and the wee people.
Thank the forest and the wave and
the clouds and the seals and the mountains.
Thank the trees and the sands and
the chemicals and the stars.
Thank the pens and the inks and the
poets.
Thank the swimming creatures without bones.
Thank the eyes glowing in the dark,
thank the tremors and the volcanoes,
thank the dance classes and the musicians,
who feel the life blood of the spring,
thank the tender Earth, in whose footsteps we
walk, thank the curled and unfurling
ferns, the softnesses of the Earth's body and
our own bodies.
Thank you cats' fur, thank you breasts,
thank you sheep, thank you lions thank
you reeds and berries.
Thank you fungi.
The glow we receive we return back
again, again, again.
The birds sing and I remember.
The birds sing and I remember,
and my memories become a song in my body.
The flowers sing and I am reminded
instantly, to exhale, to feel the muscles
deep in my belly, my neck, my throat,
my ears, unclench and re-order,
ready to listen again
for more
xoc
3.18.21
words and image C.Savage 2021
listen to this poem read by the author (on Soundcloud)
LET EVERYONE BRING THE GIFTS say the Bird Women